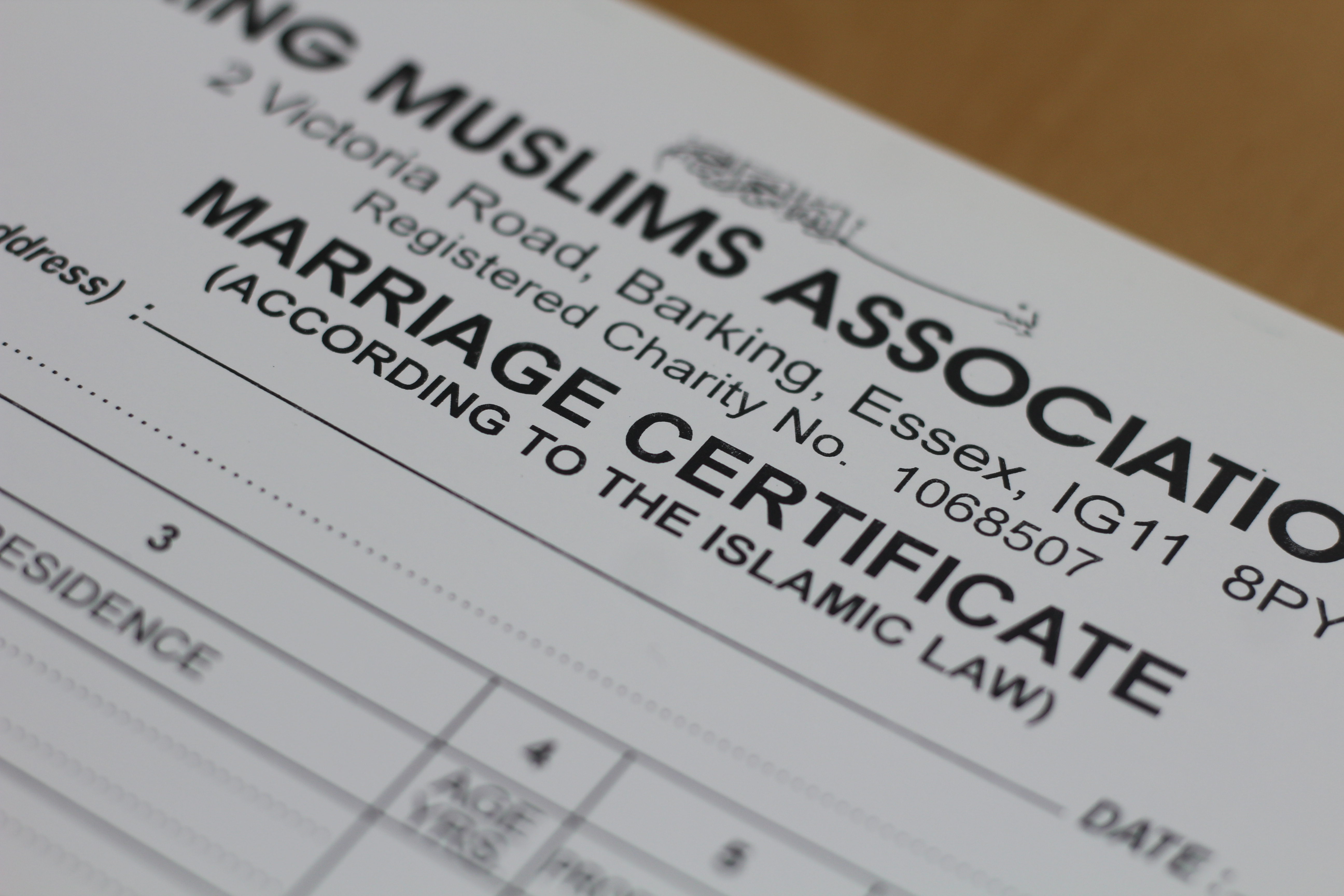 And We created you in pairs. (78:8)
The Management of Al Madina Mosque warmly welcome and congratulate prospective couples who wish to marry in accordance with Islamic Law.

The appointed Head Imam of Al Madina performs all Nikah ceremonies which takes place in conjunction with Al Madina Mosque.
A BRIEF OVERVIEW OF THE BOOKING PROCESS
We recommend that bookings are made at least two weeks prior to the planned date although we will do our best to accommodate short notification bookings. To make a booking either complete a booking form and hand the signed form to one of the members of staff, alternatively you can telephone the mosque and ask for a slot to be provisionally booked and await confirmation once all paperwork is submitted.
Documents Required: Please see the documents listed below
Documents are to be provided for the Bride, Groom, Representative of the Bride (Wali) & 2 Male Witnesses:
Proof of I.D. (Passport or Birth Certificate)
Proof of Address (Drivers License/Bank Statement/Utility Bill)
Divorce Deed (only applicable for prospective bride/groom that have been previously married)

If a prospective bride/groom is not a UK National, proof of visa and current status within the UK will need to be presented to office staff. Confirmation of the Nikkah booking may be dependent on a further check carried out by the Trustees.
All information provided MUST be true otherwise this invalidates the Nikkah.
Venue: The Nikkah can be typically accommodated in a private area within the Mosque, should you require a larger room or a hall, this can be privately hired. Upon request and subject to availability, the Imam of the Mosque can also perform Nikkah ceremonies at an alternative venue. Additional charges for his time/travel may be incurred.
Fee Structure; A full receipt will be provided for all payments made.
£250 – Inhouse (Masjid)
£300 – Outcall (Home/Wedding Venue)
Please note a further charge may be applied for weddings conducted outside of the M25.
The above cost is for the Nikkah Service + Certificate.

A Nikkah Ceremony can only be delayed for a maximum of 45 minutes beyond the stipulated time. Any delay beyond this will result in loss of any deposit made. This condition is imposed in order that the Imam's & Management's time is respected.
Should you wish to give a fee to the presiding Imam, this is completely voluntary and not a requirement of this process.
PLEASE NOTE: BOOKINGS WILL ONLY BE CONFIRMED ONCE PAYMENT IS MADE.

Important Note: Al Madina Mosque will provide a Nikkah Certificate but is not registered to solemnize marriages in accordance with English Law. A Nikkah which is performed in the UK is not considered a valid marriage under English Law and as such provides no enforceable legal marital rights. This is important to note particularly in instances of marriage breakdown or death. For this reason, we encourage all our community to ensure a civil marriage is conducted in a register office in accordance with English Law and that this is carried out immediately before or after the Nikkah ceremony to preserve the enforceable rights of both parties.
To learn more about this service or to arrange a meeting, click below.